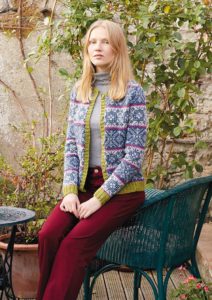 Greetings from Norway!  This week, on our channel, we are looking into one of our Rowan designs from our New Nordic women's collection and explain how you can change the pattern for this cardigan knitted flat into a cardigan knitted on the round.
All you need to do is follow our explanation in this week's video, here below:
Please accept YouTube cookies to play videos on arnecarlos.com
By accepting you will be accessing content from YouTube, a service provided by an external third party.
If you accept this notice, your choice will be saved and the page will refresh.
For more information on steeking and making a cardigan according to your own measurements, check out this free tutorial and pattern written by us, in 4 parts:
In our web shop this week
You can download the pattern for the Freja cardigan here.
We've also publishedTobias, the pattern for the fair isle hat that Arne is wearing on the photo below. Click here to get it.
There are many other great patterns on our web shop, including the patterns for both "Save the Children Sweaters" sweaters in that we are wearing in this weeks videa. Click here to access our web shop.
CALENDAR of EVENTS 2020
March 2 – 9, 2020 and March 8 – 16, 2020: Knitting under the Aurora Borealis onboard the Norwegian Coastal Express, Norway. 2 cruises. (sold out)
March 27 – April 7, 2020: Knitting Cruise in New Zealand (sold out). 
April 2020: We have considered a few appearances in Australia after the cruise is over, but the planning of these events has been delayed due to the current situation with the bushfires in Australia. We hope to go ahead with a couple of events in Australia, which we will hopefully announce in the middle or end of February.
June 4 – 10, 2020:  English Stately Homes, Gardens and Knitting in the U.K. (sold out)
September 11 – 24, 2020: Knitting Along the Most Beautiful Coastline in the World, Onboard the Norwegian Coastal Express, Norway. The classic roundtrip. (Only 1 more spot left. Click here for more)
October 9-12, 2020: Knitting retreat in Tono, Japan. Priority will be given to local knitters from the Tohoku area and to members of the ARNE & CARLOS Fan Club JAPAN.
We may add on or two more events in Europe this year, but at the time of writing this post, we do not have any plans to tour USA or Canada in 2020. We will, more than likely, not return to North America until earliest in the fall of 2021.
Wishing you a great week ahead and don't forget about our LiveStream on Saturday January 25th!
ARNE & CARLOS