Rowan Magazine 66 is out now and it has a brand new look. For more information, to see inside the magazine  and to order it, click here.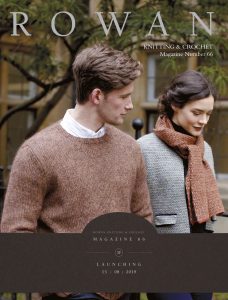 We have contributed to the main story BOOKBOUND with this unisex sweater with turtleneck, which is named, Heaney.  The design brief we received from Rowan just had one sentence about taking the inspiration from the word BookBound and so we started looking at colours that we may find suitable for a book themed design as well as ideas for the design of the sweater.
We were pretty sure of the way we wanted to go with a relief pattern, when we started to look at some intricate designs from the spines of old leather books, so we started to create a relief pattern based on purled stitches in a a contrasting colour to add some depth.
It's never a good idea to copy anything exactly, so we were never going to recreate an exact replica of a spine of a leather book, but made in knitting. It's always about inspiring ourselves, this time, by looking at the variety of beautiful spines and then coming up with some original ideas for a design.
This design is not available as a digital download, but we have designed a series of mens and women's knitting patterns which are available in our web shop
PS: There is also a pattern for an infinity scarf, but this one didn't make it into the Rowan magazine # 66. Instead, it will be available soon in VOGUE Knitting magazine as an exclusive collaboration between Rowan and Vogue Knitting.