Yes, the idea behind our latest design is the equivalent of a colouring book. Knit our new colouring mittens in white and black first, then fill with splashes of colour wherever you like! We've also made a chart, in case you want to make the mittens with the exact same splashes of colour as we have. You can get the pattern as well as the charts here.
If you've never done duplicate stitch before, we've got you covered as well, in this week's episode on our channel:
Please accept YouTube cookies to play videos on arnecarlos.com
By accepting you will be accessing content from YouTube, a service provided by an external third party.
If you accept this notice, your choice will be saved and the page will refresh.
So, who won? 
In the video, we have a little competition between us about which colours should go where and we seem to be in disagreement as we discuss who will finally win, once the design is completed. Well, nothing is what it seams and once the cameras where turned off, the design went back into the studio and eventually, we picked it up again, made a whole bunch of sketches and samples, before finally settling on the below placement of colour: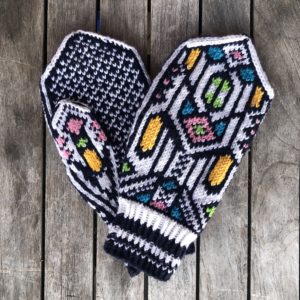 So, the answer to who won is: ARNE & CARLOS won, of course! We are a team and have worked together as a team for 20 years now. Although we do excel at different things, in the end of the day, each design has to be worked on by both of us as a collaboration and we both have a final say in what our work looks like when it's published. That is the best way to create great design, by combining our strengths and listening to each other. As we all know, there is no I in team. And, when one of our designs becomes an immediate best seller, we both win!
CALENDAR of EVENTS
March 27 – April 7, 2020: Knitting Cruise in New Zealand (sold out). 
June 4 – 10, 2020:  English Stately Homes, Gardens and Knitting in the U.K. (sold out)
September 11 – 24, 2020: Knitting Along the Most Beautiful Coastline in the World, Onboard the Norwegian Coastal Express, Norway. The classic roundtrip. (Only one spot left. Click here for more)
October 9-12, 2020: Knitting retreat in Tono, Japan. Priority will be given to local knitters from the Tohoku area and to members of the ARNE & CARLOS Fan Club JAPAN.
November 5 – 16, 2020: Join us on a fabulous Safari, Mohair and Knitting Tour in South Africa! This will truly be a once in a life time experience and something that is on many people's bucket list! Click here for more.