Today we show you how to decorate your slippers with duplicate stitch. Duplicate stitching works really well with felting, as you get more layers and it help the contrasting colours "pop" more.
Just knit your slippers using our pattern found in our previous blog post and use this chart to embroider you slippers. Make sure to see the trial above, for a set-by-step description on how to do it.
You can get more patterns and more ideas in our book, 30 slippers to Knit and Felt, available in a number of countries. You can buy the book here. Just click on your Flag. To confuse you further, there are two different covers, depending on your country. For most con tries, except for the English speaking countries, the cover looks like this: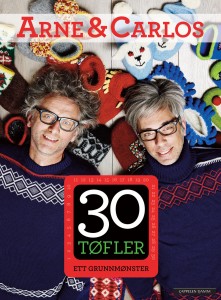 And the cover for the English version looks like this:
Have Fun!
ARNE & CARLOS
PS: If you are enjoying our tutorials and free patterns, please subscribe to our Youtube channel here!