We have just released a new trip to the United Kingdom, from June 4th-10th, where we will visit some of our favourite gardens and estates – and knit along the way on a mystery project designed by us! We have chosen to return to Highgrove, the stunning private garden that HRH Prince Charles has created for his home in Gloucestershire. We will also visit two other favourite gardens of our's, which are considered among the very best in the UK: Hidcote in Gloucestershire and Sissinghurst in Kent! We are so excited about doing a new tour in the UK and travelling in the beginning if June means we will be in England when the gardens are at their very best! Click here for the program and more information and read about our previous trip here.
This week, on our channel: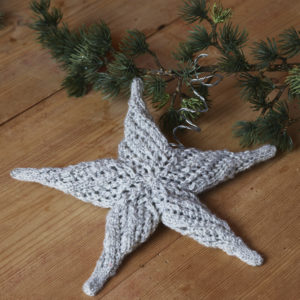 51 days to Christmas! Even though we still think it's a bit early to start spreading the joy of Christmas, this week, we have a new pattern for you: SIA, the Christmas Star. We designed this star for a Norwegian Magazine, Hjemmet, in 2017 and ever since we started posting images of it, people have been asking for the pattern. We finally had time to put this together as well as a tutorial on how to do the skeleton for the star, which is the hardest part and which you can see below. Because of the relief pattern on the star, we think a skeleton in galvanised steel is best although the star could also be stuffed with acrylic or wool filling.
We will be spreading the joy of Christmas in December, as we have filmed four special advent episodes, and many people will be happy to know that two of our advent episodes will be on cooking! So remember to tune in every week at 6:00pm CET // 11:00am CST.
Please accept YouTube cookies to play videos on arnecarlos.com
By accepting you will be accessing content from YouTube, a service provided by an external third party.
If you accept this notice, your choice will be saved and the page will refresh.
OTHER NEWS THIS WEEK:
NEW!! ENGLISH STATELY HOMES, GARDENS AND KNITTING WITH ARNE & CARLOS. Welcome to our exclusive tour to some of the most beautiful homes and gardens of England! Visit the lovely gardens of Kent – also called the Garden of England – and the beautiful Cotswolds, which includes a visit to Highgrove Gardens, the residence of HRH Prince Charles. Loose your heart in some of the most romantic gardens in the world – in landscapes that will sweep you off your feet… We will visit the UKs most iconic and our favourite gardens: Sissinghurst, Hidcote and Highgrove and can't wait to share this adventure with you! The trip will take place from June 4th-10th, 2020. Click here for more information.
COME JOIN US IN FREEPORT, MAINE! November 23rd – 24th, 2019. We are delighted to announce that we will be spending two days at the award winning hotel, the  Harraseeket Inn in downtown Freeport, to teach 4 classes that will leave inspired with new knitting techniques and design ideas. This event is organised by Grace Robinson & Co. Click here for more information.
Dream Knitting Cruise from Sydney to New Zealand. Yes!!! We are delighted to announce that we are returning to Australia and visiting New Zealand in 2020. Join us for this amazing 12 day, 11 night Knitting Cruise that departs from Sydney on March 27th, 2020 and visits all the amazing sights in New Zealand! More information is available here and here.
IN OUR WEBSHOP THIS WEEK: We hope you enjoy knitting the SIA, the Christmas Star!
ENJOY!
ARNE & CARLOS
FREE PATTERN