We are writing our blogpost from the kitchen table today, during our second day in quarantine. We are sure that most of you are aware of the daily podcast that we plan to start, as well as the knit along that we are working on sharing with all of you and which we hope will help us all keep our sanity during this terrible time! If not, click here to read our statement.
We will send an email to our entire list as well as post on social media (Facebook and Instagram) as soon as our first episode of our new, daily podcast is live. We are aiming for tomorrow Monday March 16th at 6pm Central European Time. We will do a daily "quarantine" podcast from Monday to Friday for the duration of our period indoors and of course, continue posting our regular episodes every Sunday at the usual time.
Also, because this is a knitalong, we have opened a Facebook group that you can join here. In this group, you will be able to post your progress for everyone to see.
We are looking forward to having you join our group!
This week on our channel, we show you a few different ways to decrease when knitting hats. Check out the video here:
Please accept YouTube cookies to play videos on arnecarlos.com
By accepting you will be accessing content from YouTube, a service provided by an external third party.
If you accept this notice, your choice will be saved and the page will refresh.
And in our webshop, you can get patterns for 5 hats with different decreases. Click on the photo to access all five hats. the can also be accessed individually, by clicking  here.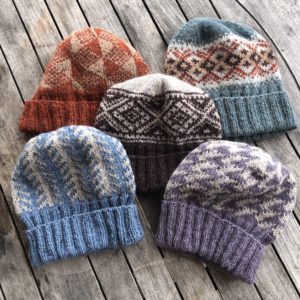 So, we are looking forward to seeing you tomorrow for the first episode of our Quarantine Podcast!
ARNE & CARLOS
CALENDAR of EVENTS (Until further notice):
All our events in March and April 2020 have been cancelled due to the current world situation! We are so sorry that we won't be able to follow through, but we hope to reschedule to a later date in 2020 or 2021. 
As for all our scheduled events starting in June 2020 and onwards: We are monitoring the situation closely and will take the necessary measures to move the events to a later date in 2020 or 2021, if necessary! If you are booked on our Garden tour in the U.K from June 4th -10th or on our Knitting Cruise from September 11th – 24th, and are considering to cancel, we kindly ask you to please contact our Travel Agency before cancelling, to discuss the options available.
June 4 – 10, 2020:  English Stately Homes, Gardens and Knitting in the U.K. (sold out)
September 11 – 24, 2020: Knitting Along the Most Beautiful Coastline in the World, Onboard the Norwegian Coastal Express, Norway. The classic roundtrip. (Only one spot left. Click here for more)
October 9-12, 2020: Knitting retreat in Tono, Japan. Priority will be given to local knitters from the Tohoku area and to members of the ARNE & CARLOS Fan Club JAPAN.
November 5 – 16, 2020: Join us on a fabulous Safari, Mohair and Knitting Tour in South Africa! This will truly be a once in a life time experience and something that is on many people's bucket list! Click here for more.