We hope all our USA-based friends had a wonderful Thanksgiving and that you all were able to relax in the company of your families and close friends! Thanksgiving has taken place very late this year, which means that first of Advent and the kick off for Christmas 2019 take place immediately after and on the very same weekend! And this means that here on our channels, we FINALLY get to go into full Christmas mode!
This week, we are knitting some lovely mittens and doing a special, radio style podcast, which you can enjoy below. We are focusing mainly on knitting the gusset and adding the contrast thread, but the main point of this video is to talk about what's been going on around here. So, make yourself a cup of tea, grab your knitting and join us for this special first of advent podcast!
Please accept YouTube cookies to play videos on arnecarlos.com
By accepting you will be accessing content from YouTube, a service provided by an external third party.
If you accept this notice, your choice will be saved and the page will refresh.
The pattern for the mittens is available in our webshop. Click on the photos below to get it.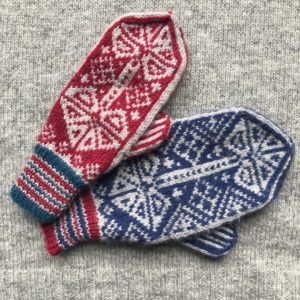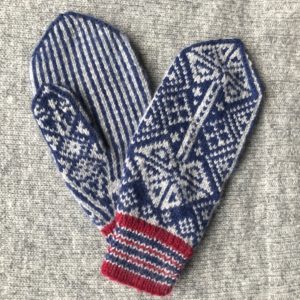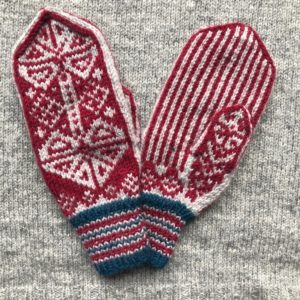 OTHER NEWS THIS WEEK:
Dream Knitting Cruise from Sydney to New Zealand. Yes!!! We are delighted to announce that we are returning to Australia and visiting New Zealand in 2020. Join us for this amazing 12 day, 11 night Knitting Cruise that departs from Sydney on March 27th, 2020 and visits all the amazing sights in New Zealand! More information is available here and here.
SOLD OUT – EXTRA "KNITTING UNDER THE NORTHERN LIGHTS" CRUISE! Due to the incredible popularity of our knitting cruises in Norway, we are hereby pleased to announce an additional Northern Lights Knitting cruise in March 2020! This cruise will be very special since it will actually start up in the far north of Norway, in Kirkenes – where the group will have a wonderful pre cruise experience of Arctic life in Norway (with even more chances of seeing the Aurora Borealis) before the cruise starts on its southbound voyage to Bergen, the main city of southwestern Norway. In Bergen we have also included a post cruise experience for you, to make sure you get the most out of your Norway adventure! The cruise will take place from March 8-16, 2020.  This cruise is now sold out. A new cruise will be announced soon!
IN OUR WEBSHOP THIS WEEK: We hope you enjoy knitting the SIA, the Christmas Star and our Christmas Stocking! Check out our webshop for loads of inspiring patterns!
ENJOY!
ARNE & CARLOS