We hope you will enjoy this week's podcast of Sit and Knit for a Bit. There is, as usual, a lot to get through in "15 minutes"! Click on the below photo of Magnus, the knitted and felted Mouse, to purchase the pattern. If you already have the original pattern, please continue scrolling to the end of this post to see all the information about what needles and yarn we used before felting the mouse, as well as our tips and advice on how to achieve the best results when felting.
Watch the entire podcast here:
Please accept YouTube cookies to play videos on arnecarlos.com
By accepting you will be accessing content from YouTube, a service provided by an external third party.
If you accept this notice, your choice will be saved and the page will refresh.
Chapters:
0:00​ The whole gang is here
2:17​ The weather in Norway
3:34​ Kate in the last homely house
8:30​ Outhouse
17.07 Answering some felting comments
24:27​ Magnus the mouse felted
32:18​ Atlantic Crossing
36:09​ Update on books and embroidery
44:48​ The picnic basket
53:35​ Astrological signs
1:06:49​ Another thrift store find
Extraordinary Insects by Anne Sverdrup-Thygeson
And here is the amazing book about insects that I just couldn't put down. The entire book, from beginning to end and Chapter 2 in particular, was fascinating! Click on the image to get more information about the author. The book is available in many languages, including English! We have checked, and the book is available on Amazon, but we'd like to encourage you to buy it from a local bookstore if you can.
Fruity Knitting
We usually record our "Sit and Knit for a Bit" podcast early on Monday mornings and had already recorded this week's podcast when we received the devastating news about Andrew Doig from Fruity Knitting. We are both deeply saddened to learn of his death, and we offer our sincere condolences to his wife Andrea and their daughter Madeleine. Although we never met Andrew and Andrea in person, we have liked watching their podcasts, and we always enjoyed Andrew's contributions to the show. He was a gentle and kind soul, and he will be greatly missed by us as well as the rest of the knitting community.
We want to encourage you to continue supporting Fruity Knitting through Patreon. Click on this link to visit their website, and from there, you will be able to follow their links to their Patreon site: Fruity Knitting
FELTING MAGNUS GARDENMOUSE
Yarn: You will need a yard that will felt, so make sure that the wool yarn you select is non-superwash. We chose Schachenmay's Wash+Filz-it!, which is a bulky yarn.
Quantities: 5 balls (250 grams) of Schachenmayr "Wash+Filz-it!" yarn in colour 21 Steel, 1 ball (50 grams) of Schachenmayr "Wash+Filz-it! yarn in colour 11 pink, and a little black yarn for the eyes.
If you can't find the yarn we used, click here for all substitutions available.
Needles: One set of dpns size 8.0 mm / U.S. size 11
Stuffing: We normally recommend 100% wool batting, but for felting, use 100% acrylic stuffing, as the wool batting may become lumpy and felt as well, while the acrylic will bounce back to its original form.
Felting the mouse: Knit the mouse according to the same pattern as the regular mouse, stuff it and finish it completely.
Put in the washing machine and add the detergent you would normally add to wash your clothes.
Add a few things that may assist the felting process. We added a pair of Converse sneakers. You could also add a couple of tennis balls or a towel or a pair of jeans. DO NOT OVERFILL the machine; only add a few items – as it is the movement that does the felting. If the machine is overstuffed with other clothes, the mouse won't felt.
We used our regular cycle for washing white clothes and a warm temperature of 40 degrees Celsius and repeated the washing cycle twice. Keep in mind temperature is irrelevant to the felting. It is the movement that will do all the work.
Originally, our mouse was 70 cm (27 1⁄2 in) tall. After two washes, he is now 50 cm (19 1⁄2 in) tall.
When the second cycle is done, take the mouse and squeeze the snout and legs to shape them better. Make sure you do this while the yarn is still wet.
Disclaimer: Felting is not easy to control, and therefore, we do not have any answers to many of the questions we usually get. Every washing machine is different, and things like the quality of the water and even the dye of the yarn will affect the end result. Some of you will only need to do one washing cycle, while others may need to do three or four or more before you achieve the desired result. If you follow our instructions, there is still no guarantee that your mouse will felt exactly the same way as ours or even be the same size. Because of this, we encourage you to experiment yourself and take everything written here as a guideline.
ENJOY!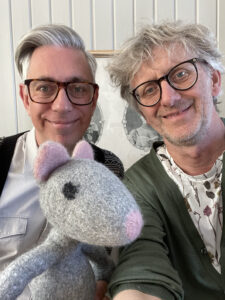 ARNE & CARLOS