Making tradition modern is a goal we strive for in our design. The Selma Cushion brings historical Scandinavian bed coverings to your sofa or comfy corner chair. With simple knit and purl stitches, you can easily craft a spectacular cushion. And choosing to knit one flower or a panel of 4 or mixing up colours leads to ultimately the exact match to your decor. Check your stash for different weights of yarn, and get this on your needles soon!
Purchase the pattern on our webshop or click on the images below. And keep scrolling to see the tutorial.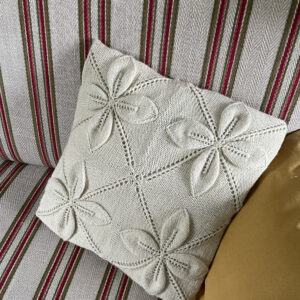 Please accept YouTube cookies to play videos on arnecarlos.com
By accepting you will be accessing content from YouTube, a service provided by an external third party.
If you accept this notice, your choice will be saved and the page will refresh.