We are of the opinion that it is way, way too early to start talking about Christmas, when we are only one week into September! But, we also know that many crafters out there have already started their festive projects. We were told during our LiveStream, 2 weeks ago, that releasing a Christmas Stocking pattern in December would be too late, so, we just wanted to let you know that we have been listening to you and have decided to publish the pattern for Tomte, our new Christmas Stocking in our web shop already now! The video tutorial for this Christmas stocking will be released on October 13th and we hope that this early release gives you plenty of time to complete this project before the big day!
You will find the Christmas Stocking pattern by clicking here.
OK, now that this is out of the way, let's Mix and Knit!
This week, on our YouTube channel, we are delighted to show you the collection that we designed for Schachenmayr, the German brand which we collaborate with on a regular basis. It's called Mix & Knit by ARNE & CARLOS, Autumn / Winter 2019.
The design brief was to do a modern collection which was different to our regular work for Rowan (no Scandinavian Patterns) and to mix different yarns in their range to achieve different effects and textures. Of course, we love a challenge and started to work on this right away. The greatest challenge was, unsurprisingly, all the different yarns we could choose from, which made the work pretty complicated, as we had too much to choose from!  The whole project was so complicated that now, 1 year after we designed the collection and it has been launched, we can not remember the names of most of the yarns we used! As we may have explained before, nothing is ever what it seams and just because something looks effortless on photos, doesn't necessarily mean there isn't a lot of work behind it. We started working on this collection in May 2018 and have been constantly following up on all the creative things that had to be done, from choosing the yarns, to designing the collection, to following up the knitting process, to naming the designs, to photography and videography and everything else in between – except for writing and grading the patterns. So, launching a collection like this always comes as a relief, as we now can FINALLY let go of it, so it can live its own life.
In any case, we hope you enjoy this video – and check out the names of the yarns below each photo, which you'll find after the video.
And, if you fancy getting any of the patterns, just click on the images to purchase them. The yarns are available for purchase online through Amazon.de
Please accept YouTube cookies to play videos on arnecarlos.com
By accepting you will be accessing content from YouTube, a service provided by an external third party.
If you accept this notice, your choice will be saved and the page will refresh.
Autumn / Winter Mix and Knit collection by ARNE & CARLOS for Schachenmayr
Two different versions of the same design, knitted in different yarns.
Click on the images to purchase the patterns and click on the yarn links under each photo for more information about the yarns. If you are on an iPhone, please rotate it to landscape mode to see  the photos and descriptions correctly.
ASLAUG                                                                        ANDRINE
Alpaca Couture, Merino Extrafine 120,                   Soft Mix, Soft Shimmer
ANNBJØRG                                                                 ANE
Alpaca Couture, Merino Extrafine 120,                 Merino Extrafine Silky Soft 120,
Soft Mix, Textura Soft                                               Soft Mix,
AUD                                                                            ASTRI
Alpaca Couture, Merino Extrafine 120,                Merino Extrafine Silky Soft 120,
Soft Shimmer                                                            Soft Mix, Soft Shimmer, Textura Soft
ARNA                                                                         AASE
Soft Mix                                                                     Alpaca Couture, Fashion Pieces  
ALMA                                                                         ANNELI
Merino Extrafine Silky Soft 120,                            Soft Shimmer
ANINE                                                                        ANNIKA
Alpaca Couture, Merino Extrafine 120,                Merino Extrafine 120, Soft Mix
ANNEMOR                                                                 AAGOT
Merino Extrafine 120, Soft Mix,                             Merino Extrafine 120, Alpaca Couture
ADA                                                                             ASTA
Textura Soft, Fashion Pieces                                  Fashion Pieces, Merino Extrafine 120,
Merino Extrafine Silky Soft 120,
Photography: Olaf Szczepaniak
Next week on YouTube, we are going to take you on a new tour of our garden so you can see what it looks like right now, so stay tuned!
ARNE & CARLOS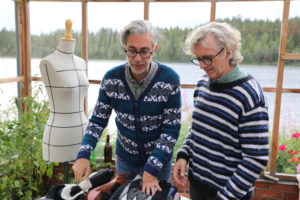 PS: You can get the patterns for the cardigan and sweater we are wearing in our webshop.
OTHER NEWS
New!!! Knitting under the Northern Lights – South bound Cruise. Due to the extreme demand we are getting when it comes to these cruises in March, we have decided to set up a second Knitting Under the Northern Lights cruise in 2020, which will take place from March 9th – 14th. This cruise will be southbound, departing from Kirkenes in Northern Norway and arriving in Bergen 6 days later and there will be good opportunities to see the Northern Lights on your first night in Kirkenes as well as the first 3 nights of the cruise. Except for the fact that we will be travelling south, towards Bergen, the format of the cruise will be identical to the northbound experience and will also include a visit to our favourite yarn factory in Norway, Hillesvåg Ullvarefabrikk. We will be publishing information soon and in the meantime, if you want to get on our waiting list, please send us an email.
Dream Knitting Cruise from Sydney to New Zealand. Yes!!! We are delighted to announce that we are returning to Australia and visiting New Zealand in 2020. Join us for this amazing 12 day, 11 night Knitting Cruise that departs from Sydney on March 27th, 2020 and visits all the amazing sights in New Zealand! More information is available here and here.