We continue to visit our archives!
Today we take a look at Gunnhild, our primrose crochet throw. Out of all the crochet blankets with floral motives that we have designed, this one remains our favourite! The flowers are very quick and easy to make, and once you have crocheted enough primroses and start joining them together, you will have a lot of fun seeing how the blanket grows organically. It is a great project to make if you want to get rid of lots of leftover yarn, and this is probably the easiest of all the crochet blankets that we have designed. The perfect project for new beginners and advanced crocheters alike, who are up for creating a big statement piece for their home!⁠
Fun Facts:
1. The first time this throw was published, was in our book, "Knit and Crochet Garden", from 2012. We decided to include this blanket in the last minute. To finish it on time for the photoshoot, we had to sit next to each other for ten days and work using four hands, to finish crocheting flowers, joining them and weaving in all the loose ends. Yes, 525 flowers made into a blanket in 10 days, by both of us working simultaneously.
2. The Primrose crochet video tutorial was the very first tutorial we ever made for YouTube, so this video is our "Pilot Episode".  We recorded it on May 31st, 2015, 6 months before we opened our Channel. The episode was finally published one year later, on May 8th, 2016.
See the tutorial below:
Enjoy!
ARNE & CARLOS x
Please accept YouTube cookies to play videos on arnecarlos.com
By accepting you will be accessing content from YouTube, a service provided by an external third party.
If you accept this notice, your choice will be saved and the page will refresh.
From the original post:
How to Crochet a Primrose Throw
May 8th, 2016
Hi everyone!
Spring is here, and we've spent some time crocheting flowers in our greenhouse. We've done masses of little primrose flowers and then crocheted them together for a large throw. The only "rule" was that the same two colours never meet. The key to the success – colour wise – is to keep the colours as random as possible.
See the tutorial here:
You can purchase the enhanced pattern which now also contains super easy-to-use charts as well as the written directions by clicking here.
Enjoy!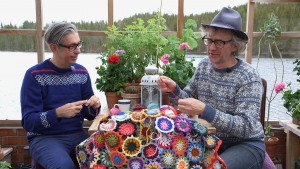 ARNE&CARLOS
PS: Our patterns were free from December 6th, 2015 until December 31st, 2018. Due to the enormous costs that we incur to run this channel, we need to raise funds and decided to start charging for patterns, in order to keep our YouTube channel 100% free. It is the only way we can continue to provide free content on YouTube for everyone to enjoy. The alternative would have been to stop making new content on YouTube. We thank you very much for your understanding. You'll find lots of great patterns in our online shop, click here to visit us!