Oh boy, last week was hectic!
We started the week with a photo shoot for Rowan that took place here in Norway, in some stunning locations near our home. The team consisted of the two of us + stylist and designer Lisa Richardson from Rowan, a photographer, a photographer's assistent, a hair and make up artist, 2 models and a couple of Siberian Huskies! Although it was a lot of work, we really enjoyed ourselves and were a bit sad when the shoot was done and everyone (except for the Huskies, who live next door to us) returned to the U.K. We are looking forward to sharing the final images as well as our new Unisex collection for ROWAN, which will be released in August 2020! While we wait for the collection, enjoy these behind the scene images!
After the Rowan team left, our usual team consisting of Erik and Anna came up to film new YouTube episodes and as many of you know, our Live Stream didn't go exactly as planned as we had some massive technical problems. Anyway, we were able to film 18 new episodes this weekend and we are looking forward to editing everything, as we have got some really great episodes lined up for you!
Now, let's talk about some really annoying mistakes: You've been working on a lovely colour work sock for some time. You pick up your knitting and suddenly discover you made a small mistake in the colour work and then kept going for 20 more rounds. Now, you can't stop noticing the error and want to rip the whole thing out again… This week on our channel, we will show you how to fix that annoying mistake without having to rip up your entire knitting! Check out the video here:
Please accept YouTube cookies to play videos on arnecarlos.com
By accepting you will be accessing content from YouTube, a service provided by an external third party.
If you accept this notice, your choice will be saved and the page will refresh.
Currently, in our web shop, you will be able to get the pattern from this week's video, for our Rondane sock, which we are also calling "The Easiest Colour Work Sock in the World" because it is based in our pattern for a sock with afterthought heel. This pattern also has a reinforced heel and toe, to give it the same thickness all over. So, these socks are not only easy and super fun to knit, they will also keep your feet nice and toasty while you tell everyone the stories behind the pattern!
Click here to access our shop.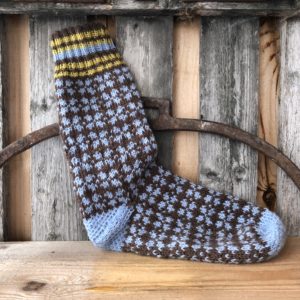 CALENDAR of EVENTS 2020
March 2 – 9, 2020 and March 8 – 16, 2020: Knitting under the Aurora Borealis onboard the Norwegian Coastal Express, Norway. 2 cruises. (sold out)
March 27 – April 7, 2020: Knitting Cruise in New Zealand (sold out). 
June 4 – 10, 2020:  English Stately Homes, Gardens and Knitting in the U.K. (sold out)
September 11 – 24, 2020: Knitting Along the Most Beautiful Coastline in the World, Onboard the Norwegian Coastal Express, Norway. The classic roundtrip. (Only a few spots left. Click here for more)
October 9-12, 2020: Knitting retreat in Tono, Japan. Priority will be given to local knitters from the Tohoku area and to members of the ARNE & CARLOS Fan Club JAPAN.
Wishing you a great week ahead!
ARNE & CARLOS