Here is the recipe for this delicious dessert:
INGREDIENTS
3 apples
6 tbsp sugar
0.5 dl water
2 tbsp butter
6 tbsp breadcrumbs
t tsp ground Cinnamon
3 dl whipped cream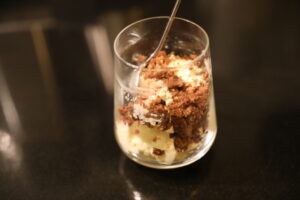 METHOD
1. Peel and cut the apples into cubes. Add them to a pan together with 4 tbsp of sugar and water. Boil until the apples are soft and mashed.
2. Melt the butter and the rest of the sugar in a frying pan. Add the breadcrumbs and the cinnamon and stir fry for a few minutes. Cool down.
3. Whip the cream
4. Layer the mashed apples, bread crumbs and cream in a glass bowl or individual glasses and serve immediately.
Check ut the video below and ENJOY!
ARNE & CARLOS
Please accept YouTube cookies to play videos on arnecarlos.com
By accepting you will be accessing content from YouTube, a service provided by an external third party.
If you accept this notice, your choice will be saved and the page will refresh.