We are back with some more tutorials and patterns from our archives! Today, we look at the beautiful crochet scarves that we made a couple of years ago, using our sock yarns from the "Regia Design Line By ARNE & CARLOS." Scroll to the bottom os this post to see the video tutorial.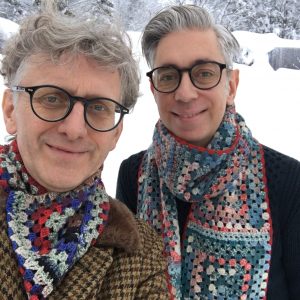 Originally, when we worked on creating these yarns, we only had socks in mind as we made the templates because the yarns were specifically for sock knitting. Still, we love thinking outside the box and trying new things out, so one day, we picked up a hook and some our sock yarn in the first series, "Regia Design Line by ARNE & CARLOS, Summer Night", and started making granny squares. We instantly fell in love with the way the colours in the self-patterning yarn move around, inside the granny squares, so we just couldn't stop crocheting until we had made a scarf in each and every one of the yarns we ever designed for them!
Another thing that we love about working with granny squares is that we have developed some really simple techniques for joining the squares using crochet stitches which are super easy, practical and highly decorative, to take granny square making into a whole new level!
To get the pattern for the scarves as well as two crochet joining techniques click: here.
Or click on the images below:
Here is the original post, from last year, you'll find the video tutorial at the end of this post:
Let's Talk About our Crochet Scarves and How to Join Granny Squares!
June 2nd, 2019
Who said that sock yarn is for socks only?! In this week's tutorial on our YouTube channel, we show you how you can create your own unique scarves, using our Regia Design Line or Regia Pairfect yarns. These are so much fun to crochet as each square will be completely different from the next and you will be waiting with excitement to see how they will turn out once they are finished! The pattern for this scarf is available here.
Please accept YouTube cookies to play videos on arnecarlos.com
By accepting you will be accessing content from YouTube, a service provided by an external third party.
If you accept this notice, your choice will be saved and the page will refresh.
Enjoy!
ARNE & CARLOS