In this weeks video, we are delighted to launch our 2021 Christmas stocking and we share some of our best tips for sock knitting. Learn how to knit the stocking by watching the video below:
Please accept YouTube cookies to play videos on arnecarlos.com
By accepting you will be accessing content from YouTube, a service provided by an external third party.
If you accept this notice, your choice will be saved and the page will refresh.
Whether cottage or castle, home is another word for comfort. The Hjem til Jul (Home for Christmas) stocking continues our tradition of offering you a cosy Nordic home for stashing treats or sweets. Click on this link or the image below to get the pattern.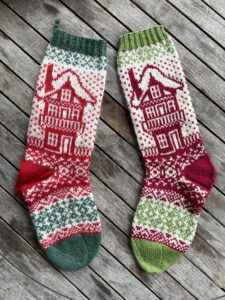 ENJOY!
ARNE & CARLOS