Hi Everyone,
Hope you had a great week! We have mainly been at home working, but managed to get out for a few rounds of x-country skiing. We are a bit concerned that we won't be able to ski during Easter, mainly due to the crazy weather, which is melting the snow, but you never know these days, with the climate change and all…. We'll just have to keep our fingers crossed… As you might already know, we really love skiing and the Norwegian Easter is also the highlight of the skiing season!
Anyway, in anticipation of Easter, we have prepared a pretty and colourful egg and pattern for you to knit! And in this week's video, we talk about how you can knit an egg just using the chart. Therefore, there will be no written pattern this week – only 2 downloadable charts that you can print and use. The first chart shows the knitting with 2 colours and the second chart shows the embroidery (duplicate stitches).
See the tutorial here:
[youtube id="Cn6cfJ1GH70″]
To quickly recap:
Materials:
Yarn:   Schachenmayr Merino Extra Fine 120 – DK weight ( 50gr/1.75oz 120m/131yds). tension per 10 cm:  22 sts, 30 rows.
Buy the yarn here.
Needles: Set of 5 dpns (double pointed needles)  Size: 3 mm. You can, of course, use circular needles if you prefer that.
Instructions to read the chart:
Read the chart from bottom to top, from left to right.
What you see on the chart is what is on one needle, meaning you repeat the chart 4 times,1 time for each of your 4 needles.
Cast on 12 sts and divide onto 4 dpns by putting 3 sts on each needle.
You can clearly see on the chart, from bottom to top, how you knit one row, then increase on the next, then knit one row without increasing and then increase on the next etc.  And then, on the decreases it's the same process , you decrease by k2tog until you have the original 3 sts on each needle. The decreases are on every 4th row, to make the egg more oval.
Anyway, this is a pretty basic thing to learn and we are sure that with the video tutorial and the information above, you won't find this difficult at all. Good luck!
Here are the charts:
And here is the final result:
You can get more Ester egg patterns in our book Ester Knits, buy the book here (just click on your flag).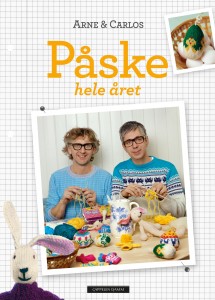 And if you need to recap on the entire tutorial on how to knit a ball/egg, watch our Christmas ball tutorial here:
[youtube id="h9dmjyhPeGM"]
And to recap on how to do the duplicate stitch, check out our video on decorating the slippers, here:
[youtube id="bwGbsx5IT5U"]
This up-coming week, we are going to Cologne, to be part of the Regia, Schachenmayr/Patons and Rowan's presentation of new products for Fall 2016. We are VERY excited, as we will be launching  our first collection of garment patterns for Schachenmayr/Patons – as well as other amazing, technological yarn things that we just can't wait to show you all, so keep your eyes peeled for more news!!
Wishing you a great week ahead,
ARNE&CARLOS
PS: Next week's video is the "ARNE&CARLOS Easter Speacial" –  you won't want to miss that one!