Edit: This tour is now Sold Out.
We are delighted to invite you to join us on an inspirational and beautiful Grand Tour of Italian Classical Gardens from May 26th to June 5th, 2022. As most of you know, we are trained fashion designers with an obsession and passion for gardening. Nature, flowers and gardens have always been a huge source of inspiration in our design work, and now, we want to share our passion and knowledge with you!
We have curated and selected a series of our favourite Italian gardens in some of the most beautiful cities and settings in the world!

Our Highlights:
Rome – Florence – Verona – the Italian lakes.
The most romantic garden in the world – Il Giardino di Ninfa, near the Pope's summer residence
Villa D'Este, with its beautiful renaissance gardens and hundreds of spraying fountains
The famous Medici Gardens of Florence
Verona and the undiscovered treasure of Giardino Giusti
After hours, exclusive tour of the Palazzo Borromeo gardens in Isola Bella, Lago di Maggiore
The sensational gardens of Villa Carlotta and Villa Melzi on the shores of Lake Como
Delicious food, high-end historic hotels and a small, intimate group of travellers.
This trip is perfect for fellow garden enthusiasts and learning more about gardening, design, culture, and history! We can't wait to welcome you to this beautiful adventure!
Price in shared double room USD 5.300 (NOK 47.500)
Click on this link to see the program and to sign up
Check out these videos of some of our highlights:
The spectacular baroque gardens at Isola Bella in Lake Maggiore, which we will have all to ourselves, after closing time:
A tour of Villa D'Este gardens with one of our favourite garden people, Monty Don.
The gorgeous and romantic Giardino di Nimfa:
The stunning and perfectly symmetrical gardens at Villa Gamberaia, Florence:
VIlla Carlotta, Lake Como
We've only got four spots left, and we hope you will join us!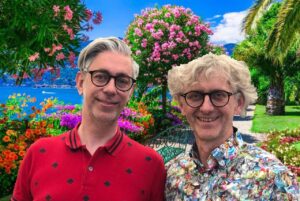 ARNE & CARLOS